PROJECT AT A GLANCE
Description
Project: ACCEPT SWAPNA BILASH
Developer : Accept Properties Ltd.
Address : Matuail,Shohidnagar,Dhaka.
Land Area: 7.77 Katha
Total Floor : 10 (G+9).
Unit(s) Per Floor : 04
Total Apartments : 36 Nos.
Total Car Parking : 7.
Number of lift : 01
Type of use : Residential
Consultant : Bd Builders & Engr. Limited
Architect : Engr. Md.Ali Hossain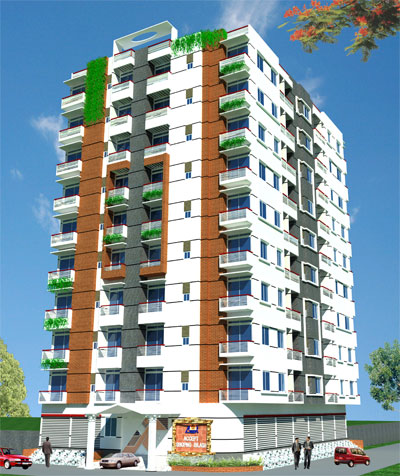 GENERAL AMENITIES OF APARTMENT-MAIN APARTMENT FEATURES
MIRROR
Mirror's in all bathrooms with overhead lamps, except servant toilet.
MAIDS TOILET
RAKor equivalent floor and wall tiles with local made long pan, shower and lowdown.
WATER LINE
Hot and cold water line provision in Master & Child bathroom
KITCHEN FEATURES
DOOR
Frame will be of seasoned Teak Chamble wood and shutter will be solid wood (Germany).
PLATFORM
Impressively designed platform with granite work top
BURNER
Double burner gas outlet
WALL
RAK or equivalent ceramic wall tiles up to cabinet height
FLOOR
Floors Homogenous tiles (16" X 16").
WATER LINE
Hot and cold water line provision
SINK
One double bowl stainless counter-top steal sink with mixer.
EXHAUST FAN
Exhaust fan will be provided.
STRUCTURAL AND ENGINEERING FEATURES
* Structural design parameters based on Codes of American Concrete Institute (ACI), American Standards of Testing Material (ASTM) and Bangladesh National Building Code (BNBC-93).
* Structural elements designed and detailed for wind and earthquake forces as recommended in BNBC for different areas and zones.
* Sub-Soil investigation and testing for soil parameters done through experienced and reputed nrm and analyzed by qualified Geotechnical Engineers.
*Structural designs done by professional structural designers and comprehensively cross checked by our in house structural consultant.
* Construction works always done with our own highly experienced engineers and group of well experienced technical team.
*The quality control of materials and construction techniques independently checked by the quality control (QC) department of our company.
* The testing of all materials performed regularly and as per the recommendation of code from BUET, Dhaka.
* All other related works finishing and completion of buildings done by own architects along with the consulting firm.
MAJOR STRUCTURAL MATERIALS
* Cement: Portland Composite Cement or Ordinary Portland Cement from any reputed manufacturer.
* Steel: 60 grade deformed steel from well recognized steel manufacturer.
* Aggregates: Stone chips in R.C.0 work (as per design specification). Bricks: 1st Class bricks.
* Sand: 2.25-2.5 FM coarse sand for concrete, 1.2-1.5 FM medium sand for brick work & plaster work.
* All structural materials including steel, cement, bricks, sylhet sand & other aggregates etc. of the highest standard and screened for quality including laboratory testing.
* Direct supervision at every stage of construction by team of experienced and qualified Civil Engineers to ensure highest quality workmanship.
ELECTRICAL
* Sub-station of required capacity with foreign electrical switches, circuit breakers, plug points & other fitting fixtures (LEGRAND/Hager or equivalent).
* Independent electric meter & Electrical distribution box with main Circuit Breaker in each apartment.
* Concealed electrical wiring (BRB/Citizen/Eastern cables/Paradise cables or equivalent).
* Provision of Air conditioner in Master bedrooms, Child & living room.
* Emergency power in lift, lobby, intercom service, water pump, car parking, reception area, security room & main gate.
* Light fixture in stair and lobby (Swash/Crescent or equivalent).
* Washing machine provision
PLUMBING
* All pipes concealed in duct.
* Water supply lines with superior quality G.I. Pipes or imported PPR pipes.
* Sewerage line with quality uPVC pipes and uPVC fittings.
* Rain water and waste water lines are PVC pipes.
* Gas lines with superior quality G.I. pipes.
* Best quality water pumps (Pedrollo/Saer).
OPTIONAL FEATURES
* Various interior designing, additional fittings and fixtures as per choice of buyer may be arrange at own cost basis after the approval of the company.
GENERAL AMENITIES OF APARTMENT-MAIN APARTMENT FEATURES
BUILDING ENTRANCE
The main entrance of the building complemented by a secured decorative gate with lamppost and the Prime Heaven Logo introduces on to rare grandeur & spacious drive way. Security provision for control of incoming and outgoing persons, vehicles, goods etc.
RECEPTION LOBBY
Main lobby and reception area in secure premises with desk.
STAIR LIFT LOBBY
Lift lobby & lift wall will be finished with mirror polish tiles (16" X 16").
CAR PARKING
Reserved car parking in covered & protected ground floor for residents with comfortable driveway.
LIFT
1 (one) intentional standard passenger lifts having a capacity of 6 (six) person from reputed international manufactures. Lift to have adequate lighting, doors and cabin with emergency alarm.
GENERATOR
01 (one) international standard stand-by generators of required capacity to provide backup power for operating the lifts, water pumps, lighting in common areas and stairs, 3 (three) lights and 2 (two) fans including 1 TV or 1 Fridge in each apartment in case of power failure. Auto Mains Failure (AMF) control panel & Transfer Switch (ATS) in generator for instantaneous switch-over to generate power in case of power failure.
MAIN STAIRCASE
The staircase will have spacious lobbies with consideration for easy to climb steps and adequate lighting. Hand rail made of SS pipe with specially designed S.S railing will be provided.
WATER RESERVOIR/WATER PUMPS
Large underground water reservoir and rooftop water tank to hold sufficient quantity of water. 1 (one) number of pumps for lifting water from underground reservoir to roof top tank.
GARDEN
Exclusive & splendid garden in ground floor with decorative lighting
ROOFTOP
An average of minimum 4" thick lime terracing will be done on roof applying special treatment for better thermal insulation. Proper slope will be maintained to protect the roof from dampness. Protective parapet wall and tiled finish sittings will be provided at suitable locations.
ELECTRICITY SUPPLY
Electricity supply from DPDC/DESCO source with required capacity substation.
WATER SUPPLY
Water supply connections from WASA sufficient as per total calculated consumption.
GAS SUPPLY
Gas pipeline connection from TITAS distribution system as per total calculated consumption with adequate safety measures incorporated (as per government rules).
SECURITY SYSTEM
Proper Security System.
FLOOR
Floors in mirror polish Tiles, Mir, CBC or equivalent (16" X 16") [as per RHEL standard]
PAINTING
Smooth finish and soft colored plastic paint on all walls and ceiling. Weather coat/Master coat will be provided in external walls. Bathroom ceiling will be painted with enamel paint matched with the bathroom tiles. M.S. railing, M.S. Pipe, window grill will be painted with enamel paint (Berger or equivalent).
MAIN DOOR
Both frame and shutter will be of seasoned teak wood. Well designed and decorative with door chain, check viewer, door knocker & apartment number plate.
BED DOOR
Frame will be of seasoned Teak Chamble wood and flash door shutte with French polish.
WINDOW
Sliding windows with 5mm thick tinted/clear glass complete with mohair lining and rain water barrier in 4" aluminum sections with locking system safety grills in window
INTERCOM
Intercom system with connection to concierge desk.
BATHROOM FEATURES
DOOR
Frame will be of seasoned Teak Chamble wood and all bathrooms with inner side lacquered veneered flush door/solid door (Gamary).
SANITARY WARES
Sanitary wares from reputed manufactures
BATHROOM FITTING
Good quality bathroom fittings
WALL
Ceramic glazed wall tiles up to 7' height (china) [as per Accept Properties standard].
FLOOR
Floor tiles (12" X 12") Mir, CBC or equivalent.